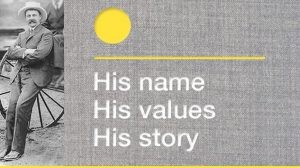 From humble beginnings with one real estate office in Crows Nest, Queensland, Ray White has expanded its expertise and now has a referral network that includes property management, auction services, commercial, White Private, rural, hotels, marine, insurance and Concierge. Ray White is well placed to offer our customers a value-added service for any real estate and property service.
The Ray White story is defined in our publication 'His Name. His Values'.
It was a humble beginning in an old shed on a railway siding in the smallest of country towns. Yet it prospered. It grew. It relocated. Ray added services. Most importantly, he created a business his family took pride in. A pride reflected in a determination to keep testing its potential. Forever expanding with new members and new services.
Ray's philosophy was simple and enduring. He and his subsequent leaders had a basic text for everything they did and do. An overwhelming desire to bring benefits to whom they transacted business with and to all those that trusted their careers to the 'Ray White' name.
To learn more about the history of Ray White, click here to read the online book.